Voyage of Discovery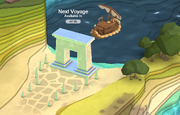 Located early on in each players own Homeworld, the Voyage of Discovery is a sequence of challenges the player can overcome using the lessons, and knowledge they have gathered so far.
After the tutorial Expedition is completed, there are no more expeditions. The ship is permanently stuck at "More Voyages Coming Soon". The 22cans FAQ indicates that voyages have been "temporarily disabled", though they have been disabled since mid-2015.
There are multiple "Expeditions" each with their own set of levels. After the first Expedition, three more are unlocked, each with their own unique rewards. These rewards are for use in the homeworld.
| Expedition Name | Rewards |
| --- | --- |
| Azure Archipelago | |
| Swamped | |
| Arctic Expedition | |
| Expedition Name | Rewards |
| --- | --- |
| Trials and Temples | |
| Burning Isles | |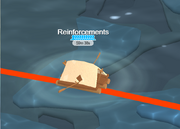 When a stage in the Voyage of Discovery is failed every follower that came ashore is lost, reducing the amount of available followers on your ship. As soon as the stage is failed reinforcements will cast off on a raft and eventually catch up with the ship. The amount of followers on the raft will be equal to the amount that was lost. The raft is considerably slower, however, and the time it will take to catch up is based on the number of the stage that was failed (see General Info).
Multiple reinforcement rafts can be on their way at any one time. If the main ship moves further along the expedition course by completing more stages the raft does not take any longer to catch up. The same goes for if the ship moves back a stage (returning to the homeworld will move the ship back to the last stage it completed).
| Stage | Reinforcements Time |
| --- | --- |
| 1 | 10 Minutes |
| 2 | 20 Minutes |
| 3 | 30 Minutes |
| 4 | 40 Minutes |
| 5 | 50 Minutes |
| 6 | 60 Minutes |
| 7 | 70 Minutes |
| 8 | 80 Minutes |
| 9 | 90 Minutes |
| 10 | 100 Minutes |
Each expedition has 10 stages and 3 difficulty levels; Bronze, Silver and Gold. As the difficulty increases so too does the reward gained for completing it.
If no belief is awarded at the beginning of a stage none can be collected during the stage by destroying rocks and trees.
It is best to set as many builders as possible to work on constructing abodes and repairing beacons before attempting Voyage of Discovery missions.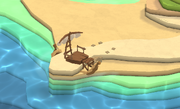 During any stage it is possible to bury the dock and the ship along with it.
| Expedition # | Difficulty | Followers Required | Reward |
| --- | --- | --- | --- |
| 1 | Bronze | 5 | , 1 |
| 2 | Bronze | 5 | , 1 |
| 3 | Bronze | 5 | , 1 |
| 4 | Bronze | 5 | , 1 |
| 5 | Bronze | 5 | , 1 |
| 6 | Bronze | 10 | , , 1 |
| 7 | Bronze | 10 | , , 1 |
| 8 | Bronze | 10 | , 1 |
| Expedition # | Difficulty | Followers Required | Reward |
| --- | --- | --- | --- |
| 1 | Bronze | 5 | 500 |
| 2 | Bronze | 5 | 500 |
| 3 | Bronze | 10 | 1000 |
| 4 | Silver | 10 | 1000 |
| 5 | Silver | 10 | 1000 |
| 6 | Silver | 10 | 1000 |
| 7 | Silver | 10 | 1000 |
| 8 | Gold | 15 | 1000 , 10 |
| 9 | Gold | 15 | 1000 , 10 |
| 10 | Gold | 15 | 10,000 , 20 |
| Expedition # | Difficulty | Followers Required | Reward |
| --- | --- | --- | --- |
| 1 | Bronze | 10 | 1 |
| 2 | Bronze | 10 | 1 |
| 3 | Bronze | 10 | 1 |
| 4 | Bronze | 10 | 1 |
| 5 | Silver | 10 | 1 |
| 6 | Silver | 10 | 1 |
| 7 | Silver | 10 | 1 |
| 8 | Silver | 10 | 1 |
| 9 | Gold | 10 | 1 |
| 10 | Gold | 15 | 10 |
| Expedition # | Difficulty | Followers Required | Reward |
| --- | --- | --- | --- |
| 1 | Bronze | 10 | |
| 2 | Bronze | 10 | |
| 3 | Bronze | 10 | , |
| 4 | Bronze | 10 | , |
| 5 | Silver | 10 | , |
| 6 | Silver | 10 | , |
| 7 | Silver | 10 | , |
| 8 | Gold | 10 | , , |
| 9 | Gold | 10 | , , |
| 10 | Gold | 15 | |
| Expedition # | Difficulty | Followers Required | Reward |
| --- | --- | --- | --- |
| 1 | Bronze | 10 | 500 |
| 2 | Bronze | 10 | 500 |
| 3 | Bronze | 10 | 1000 |
| 4 | Silver | 10 | 1000 |
| 5 | Silver | 10 | 1000 |
| 6 | Silver | 10 | 1000 |
| 7 | Silver | 10 | 1000 |
| 8 | Gold | 15 | 1000 , 10 |
| 9 | Gold | 15 | 1000 , 10 |
| 10 | Gold | 15 | 10,000 , 10 , 50 |